Tue Jun 23, 2009
OPPC Photo Outing Planned in lieu of July 13th Library Meeting
Monday July 13th in lieu of our regular Library meeting we plan to meet (weather permitting) at 6:30 pm at the green Line El Station on Oak Park Avenue and South Boulevard in Oak Park. If you plan on staying long enough for dusk it would be a good idea to have a tripod or mono pod handy. If you do not have one it may be possible to team up and share with another member.
Our plan, for those members who work in the city and plan on meeting us; we plan to get off the el at the state street/ Lake exit and walk over to the North East corner of State Street and Wacker to meet up at around 7.
Please Be Aware that prints for the Trailside Museum are due at our next Library Meeting on July 27th to review details on the Trailside Museum Show OPPC Exhibits
Wed Jul 30, 2008
Garden Photo Get Together Monday August 4th
Garden Photo Get Together. Cate Radke will be graciously hosting a Garden Photography evening Monday August 4th at 6pm-7pm. Cate lives at 1209 N. Grove. Located 1 block west of Oak Park Avenue and LeMoyne.
After Cate's, Nancy Ortenberg will be opening her garden to our group of photographers from 7-8 pm. Nancy lives at 1111 N. Edmer. Edmer is one of those streets that is a 2 block street. Leaving Cate's you will go south to Greenfield then head east past Oak Park Avenue on Greenfield approximately 8 blocks until you see Edmer . Turn left on Edmer and proceed to 1111. You'll find Nancy is 2 houses North on the left hand side of the street.
Please RSVP to the OPPC Yahoo thread #2502 Titled Garden Photo Get Toghether Monday August 4th. so the ladies can get a head count. You are encouraged to have an early dinner beforehand. Light refreshments will be available in the Gardens.
Wed Mar 26, 2008
Get Together and Celebration At Prairie Bread Kitchen
Sunday March 30th between 1:30 pm and 3:30 the club plans an opening celebration, reception and get together to celebrate the current show hung at the Prairie Bread Kitchen. The Prairie Bread Kitchen will be open for regular business at this time we will meet informally.
As the Prairie Bread Kitchen offers light fare as well as tea, coffee and soft drinks we can purchase refreshments there. In this way we can support an area business that supports artistic creativity.
The Prairie Bread Kitchen is located at 103 N. Marion by the El/Metra station, in downtown Oak Park. Join us to celebrate the show, friendship and the club.
Tue Aug 09, 2005
August 2005 Show Reception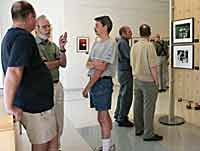 The August Show Reception was a small informal gathering of photographers and their guests. Special thanks goes out to all members who supplied refreshments and to Carole Krysan for the wonderful harp music.






Wed Jul 27, 2005
August Show Reception and Refreshments
The August Show Reception will be held from 2-4 p.m. on Saturday August 6, 2005. Join us to celebrate, food, friendship and photography. Refreshments will be available as well as professional harp music by Carol K.
Debby Preiser is once again coordinating the reception's refreshments. If you are able to bring in cookies, crackers, cheese, fruit or other finger foods please contact Debby.
Debby will be providing a tablecloth, flowers napkins, cups, lemonade, and punchbowl.
If you are bringing any refreshments please arrive at least ten minutes before 2 p.m.